I've been thoroughly enjoying a wonderful webcomic -

xkcd
One I found recently that gave me cause to chuckle was this: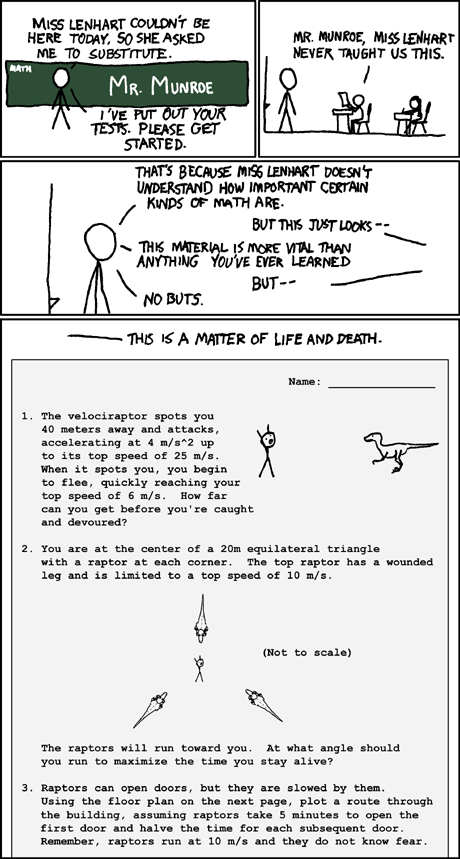 Homework, the bane of many a student's life. There's something about the above comic that I find hugely appealing. I probably would have failed the questions, and been thusly consumed by Velociraptors - but it's homework I would have loved receiving.
As a teacher I'm not a huge fan of giving out homework (this is an understatement) - to be honest I'd rather kids go home and spend the same amount of time playing games with their parents. It's one of those things though - many families expect and want their children to have homework - so despite several years of assiduously avoiding it as best I could I've decided to try and slightly different tack to traditional maths and spelling questions. Every week the kids in my room delete from and add questions to a matrix - questions relate to various topics - mathematics, literacy, the Arts, science and our theme (which this term is 'Australia').
I've been pleasantly surprised by both the questions asked and the answers found. We have had some really complex questions posed - such as 'Why don't we fall off the Earth?", "How was Uluru formed?" and "What is the oldest type of writing?" As well as a range of questions that reach from the inscrutable to the relevant and philosophical. They also cover a satisfying range of topics - not simply mathematics and spelling (though both of those as well)!
I've tried to ensure that questions are a mix - some simple; requiring a little research, some more complex. Some asking for pure opinion, some for creative thinking.
Ultimately I don't expect my grade 3 and 4 students to walk away remembering that the gravitational force generated by our planet's mass is what attracts us to the surface, or that Uluru was formed by millions of years of sediment build up, or that cuneiform is a form of clay-tablet writing used by the Sumerians.
What I do want though is for students to find out little bits and pieces about things they didn't know before hand, to have some stake and say in what they research or respond to, to think and read about things outside their normal spheres of experience - things they may never look at in school again. The very act of thinking and asking the questions we put in the matrices is giving them a valuable voice - something they may not have had much experience of before.
Hopefully they walk away with an increased sense of curiosity, with the idea that they can ask questions, and can go looking for the answers. And perhaps most importantly: that learning is not just about being able to spell correctly or find the correct answer to an algorithm (as important as those things are).
So far we all seem to be enjoying it - as much, at least, as homework can be enjoyed. I'd still rather they play games with their parents, but for the time being at least this is interesting - and the responses I've read have been the range of fascinating, well researched, carefully thought out and creative. We shall see how it lasts...
If you have any questions for the class - tweet them to @Pritchard_class with the #homework34P